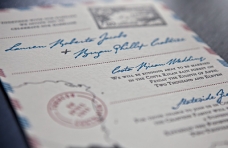 On April 8th Lauren and I got married in Costa Rica at the Tabacon hot springs. It was all very last minute, back in February we came to a realization that having a big elaborate wedding here in the states just wasn't for us. So on a good friends recommendation we decided to run away with a few family and friends to get hitched in the shadow of an active volcano… The wedding couldn't have been more perfect.
Anyways, these are the invites that I whipped up for the occasion. They are 3 color letterpress on 110lb 100% cotton card stock and I'd say that Studio on Fire did an amazing job on the printing as usual, thanks again guys!
Comments
There are no comments for this entry yet.
Add a New Comment
SEARCH
CALENDER
<<
February 2023
S
M
T
W
T
F
S
1
2
3
4
5
6
7
8
9
10
11
12
13
14
15
16
17
18
19
20
21
22
23
24
25
26
27
28
ARCHIVES
NEWSLETTER
DRIBBBLE
CATEGORY TAGS